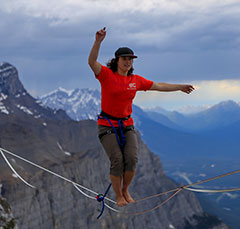 When you combine Mia's tenacious personality with her natural athleticism – you get the first female record holder in the sport of slacklining! Mia has traveled to China, Brazil, Switzerland, Utah, and Germany to perform the most amazing Highline walks. This phenomenal sport requires one to be in top notch health, with an abundance of energy and incredible balancing skills – not to mention courage and persistence. As a child, Mia was a natural athlete. She excelled in outdoor sports like skating and skiing, and further began to grow her love for highlining. After only highlining full-time for one year, Mia quickly gained high popularity in the British Columbia Slacklife community.
In 2016, Mia became the female world record holder when she walked 222m above Hunlen Falls in British Columbia.
In 2017, with a 493m walk, 120m above ground, Mia broke her own world record in Moab, Utah.
In 2018, Mia broke her own world record again when she walked a 614m highline, 450m above ground in Canion do Espraiado, Brazil.
In 2019, Mia crossed a 2km slackline suspended more than 200 metres high in Asbestos, Quebec, setting the current world record for highlining. Watch some of Mia's record breaking videos here:
Mia's record holding status proves that she is not only a skilled athlete, but a true lover of a good outdoor adventure!
"I strive to push the sport of highlining to new places while exploring the outdoors further. I love sharing my passion and energy for the great outdoors by connecting with like-minded individuals. Finding my best health means being able to do what I love, as long as I can. I choose CanPrev products to help fuel my active lifestyle and keep my energy levels up. These supplements have been a fantastic addition to all of my expeditions and travel, keeping my immune system healthy and recovery time down."
Her favourites
Oil of Oregano
"I love this product because as soon as I feel like I might be catching something or have been around those who are fighting off something – even if I feel a little low on energy, Oregon oil is my go-to. I always avoid catching what everyone else has."
Vitamin D3 + K2
"Currently my favorite Canprev product is Vitamin D3 & K2! During the winter months, I feel it's especially needed, not only because it's colder and there is less sunlight but because I need to keep my immune system healthy. I travel quite a bit and it is easier to catch something while in transit when you don't always have access to healthy options."
Meet our other ambassadors