Clean, custom nutrition.
Your nutritional needs are as unique as you. Supercharge your day by creating your own finely-tuned performance powder combinations with CanPrev's Powder System. Each high-performance nutrient is selected for maximum bioavailability and potency. Soy, gluten and GMO-free. 100% vegan.
Fine tune your nutrition. Myo-Inositol is closely related to the B-vitamin family. It's clinically studied for use in mood imbalances, hormone regulation, healthy glucose metabolism and cardiovascular support. CanPrev's Myo-Inositol powder has a mild sweet taste and can be added to water or mixed into your favourite beverage.
Afternoon Pick-Me-Up
Sail through the afternoon slump with this fresh banana-berry smoothie.
• 500ml water or plant based milk
• ½ cup berries (fresh or frozen)
• ½ – 1 banana
• ½ cup spinach
• 1 scoop Myo-Inositol Powder
• 1 scoop Fibre Feel OR Aquatein Vegan SuperProtein
Every scoop of Fibre Feel is 4g of organic, FODMAP friendly natural acacia plant soluble fibre, designed to help your gut feel great. It gets you all the digestive benefits of promoting healthy bacteria without uncomfortable levels of fructose, fructans, galacto-oligosaccharides, sorbitol, mannitol or lactose that can irritate IBS symptoms.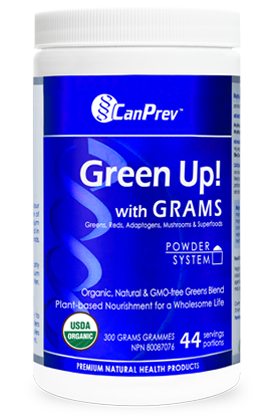 Could your daily nutrition use a boost? Green up your day with Green Up! Powder from CanPrev! It's the best way to include 39 wholesome greens, reds, adaptogens, mushrooms and superfoods into your daily routine. 100% plant-based and certified organic, this nutrient-packed immune-boosting, fatigue-fighting whole foods blend is a sure-fire way to boost your day.
Fresh Fix
Stress less and think happy thoughts with this meadow- fresh fix.
• Banana
• Spinach
• Hemp seeds
• 500ml of coconut water
• 1 scoop of GreenUp!
Stir up your morning routine and stir in some Myco10 – your daily immune boost. You might find it to be your cup of tea. Or coffee. Or smoothie. Or reason for beating your last run time. Either way, don't get run down. Get Myco 10 mushroom blend.
Immune Boosting Smoothie
Get the kick you need to fight off the ick with this immune boosting smoothie.
• 1 scoop of L-Glutamine
• 1 scoop of Myco10
• 2 table spoons of cocoa powder
• 1/4 cup of mixed berries
• Half an avocado
• 500ml of plant based milk or your favourite drink
As the most abundant amino acid in the body, glutamine is required to maintain the health of rapidly dividing cells including immune and gastrointestinal cells. Supplementation with glutamine also helps to repair muscle cells after exercise. One scoop of CanPrev's L-glutamine can be combined with 1 scoop of fully chelated, pure Magnesium Bis-Glycinate powder, which is, 400 mg per scoop. It's a mighty dose of magnesium, designed with maximum gentleness.
Training Recovery Shake
Don't let your last hurdle be your last hurdle.
• Beets
• Pineapple
• Raspberries
• Almond butter
• 400ml of water or favourite drink.
• 1 scoop of L-Glutamine
• 1 scoop of MagnesiumBis-Glycinate 400
Vegan Amino Acids
Whether you're training, healing, fighting fatigue, or simply seeking a daily boost of nutrition, you can turn to CanPrev's Vegan Amino Acids to provide potent doses of the essential amino building blocks you need. Pure, clean ingredients. 100% vegan. All of the good stuff with none of the bad. Just what you've come to expect from CanPrev.
L-Glycine
Glycine is essential for effective athletic recovery, including collagen and creatine synthesis and muscle repair
Acts as an inhibitory neurotransmitter to help relax brain activity
Supplementation can become essential when the body is under strain
Pure, fermented L-Glycine – nothing else
Each scoop contains
L-Glycine
5g
Try these health boosting cocktails.
The Powder System is designed with neutral flavouring and enhanced solubility to maximize your mix and match. Stir or shake them into your favourite drink, smoothie or morning joe and go about your day feeling great.