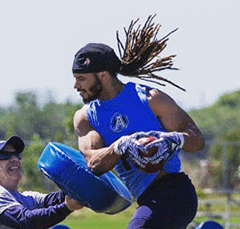 To try something new, Alex only started playing football in grade eleven at high school in St. Catharines Ontario! With hard work, intense training and a special focus on improving his diet, Alex put extra weight on and turned heads in the sport he had discovered. He ended playing football at the University of Guelph while studying kinesiology.
After four years playing for Guelph, Alex was drafted to the Montreal Alouettes Canadian Football League. In 2017, Alex was traded to the Toronto Argonauts CFL association. A year that proved to be most victorious as the team successfully won the Grey Cup final. As a pro-player, Alex realized early on the importance of developing a preventative approach against muscle deterioration and nutrient depletion in order to decrease his risk of injury.
Alex had gained basic nutrition information from his university education over the years. This, along with special insight from coworkers (naturopathy students he had met while working at a supplement store) propelled Alex to learn more about natural health. Today, his extensive knowledge about natural health products helps him choose products that reduce inflammation, increase absorption of nutrients and speed his recovery time after intense training.
"CanPrev offers a line of supplements that keeps me healthy! Not only to help me train well but to continue to compete with the best. Once my athletic career has ended, I plan to maintain my overall health, body and mind, by continuing to take a preventative approach."
ElectroMag
"Because of my activity level, It's important for me to stay hydrated! ElectroMag offers me electrolytes plus the most absorbable kind of magnesium so I can continue to train hard without muscle fatigue or cramps that can be a symptom of dehydration."
Adult Multi
"I use the CanPrev Adult Multi formula to maintain my overall balance of vitamin and mineral intake. I'm not always able to eat enough nutrient dense foods while on the go. This formula ensures I don't miss out on key nutrients that support my immunity!"
Pro-Biotik™ 15B
"My go to for regulating my gut health! When my gut flora is balanced, more nutrients from both my supplements and food are better absorbed."
Magnesium Bis-Glycinate Gentle Powder
"I love this product because it aids in my muscle recovery. This allows me to go train harder and more consistently."
Meet our other ambassadors